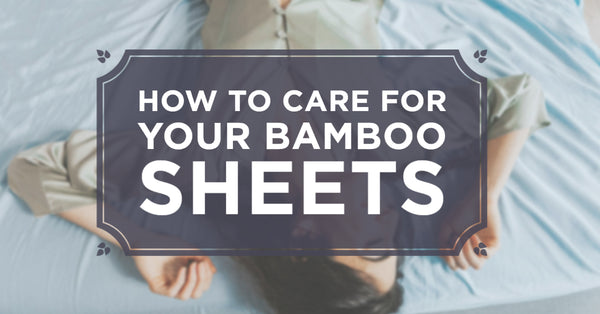 How to Care for Your Bamboo Sheets
We already know the benefits of bamboo bedding - soft, hypoallergenic, sustainable. But how do you make sure that your durable bamboo bedding lasts for years? Proper washing.
5 Washing Tips for Bamboo Sheets:
Wash Sheets Alone

Retain softness and that silky smooth feeling of premium bamboo sheets and bamboo pillowcases by washing them alone + away from everyday clothing that can snag or cause abrasions.

Wash with Cold Water - 30℃

Warm water can cause pilling on sheets, and most detergents are designed to remove stains and dirt with cold water. Cold water will keep your sheets cleaner and is more sustainable for the environment since it doesn't use energy to heat it up - win, win.

Wash on a Gentle or Delicate Cycle

While some like hand washing bamboo sheets, most prefer to find the right wash setting. When using a washing machine, wash high-quality bamboo sheets on the delicate cycle.

Wash with Mild Detergent

Bamboo linens are natural antimicrobial sheets - aka they're easy-to-clean sheets. Avoid detergents with harsh chemicals, and stick to liquid biodegradable detergent or mild detergents to remove sweat, stains, and dirt. Do NOT wash bamboo sheets with bleach. Do NOT use fabric softener. (Sorry to shout - we just don't want those harsh chemicals ruining your sheets.)

Wash Sheets by Season

Real talk - we sweat in our sleep. While our breathable sheets have a natural cooling effect, it's important to remove sweat and dirt from your sheets. So, how often should you wash sheets? Depends on the season:

Summer: Wash every 7 - 10 days
Winter: Wash every 14 - 17 days
Do I Need to Pre-Wash Bamboo Sheets?
Fun fact - all of our Sova Bamboo One Sheets™ are pre-washed and pre-shrunk so you don't have to… aka we've got your back (and bed).
We hope this helped go beyond the care tag - now go increase the longevity of your certified organic bamboo sheets with our bamboo sheet care guide at your side.