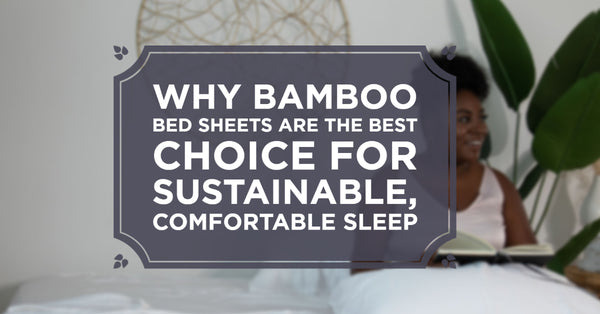 Why Bamboo Bed Sheets are the Best Choice for Sustainable, Comfortable Sleep
Are you tired of waking up in the middle of the night feeling hot and sticky, despite your cotton sheets feeling cool to the touch? It might be time to consider switching to bamboo bed sheets. Not only are bamboo sheets more eco-friendly and more sustainably made than traditional cotton sheets, but they are also naturally thermoregulating and moisture-wicking, making them the perfect choice for hot sleepers or those living in humid climates.
But this is only the beginning of the benefits of bamboo linen. Bamboo is a highly renewable and sustainable resource, with some species able to grow multiple feet in a single day. In comparison, cotton is a water-intensive crop that can take up to a year to mature while requiring multi-month-long cycles to grow. Choosing bamboo bed sheets not only helps to reduce your carbon footprint, but it also helps to conserve valuable water resources.
In addition to being environmentally friendly, bamboo bed sheets are also naturally anti-bacterial thanks to a substance called bamboo-kun. This substance, found on the surface of the bamboo plant, has been shown to inhibit the growth of bacteria, mold, and other microorganisms, making bamboo sheets a great choice for those with sensitive skin or those looking for sheets that stay fresh and clean for longer. In fact, bamboo bedding has been shown to be effective in reducing the severity and frequency of acne and other skin irritations, making it a great choice for those with sensitive or problem skin.

Perhaps the most appealing quality of bamboo bed sheets is their incredible softness and comfort. Many people compare the feel of bamboo sheets to silk or cashmere, making them a luxurious and comfortable choice for your bed. And because bamboo is naturally breathable, these sheets will keep you cool and comfortable all night long. In addition to being comfortable to sleep on, bamboo bed sheets are also incredibly durable and long-lasting, making them a great investment for your bedding needs.

Bamboo linen is sustainable and renewable, cooling, naturally anti-bacterial, and incredibly soft and comfortable to touch.

So why not give bamboo bed sheets a try? Not only will you be making a more sustainable and eco-friendly choice, but you'll also be treated to the luxurious comfort and thermoregulating benefits of bamboo. Upgrade your sleep experience and try Sova's The One Sheet, the world's first "connected bed sheets" made responsibly with organic bamboo viscose! What's better than bamboo bed sheets? Bamboo bed sheets where the top sheet is attached to the fitted sheet allowing making the bed to take half the time while stopping your partner from stealing the sheets!
Your skin (and the planet) will thank you.